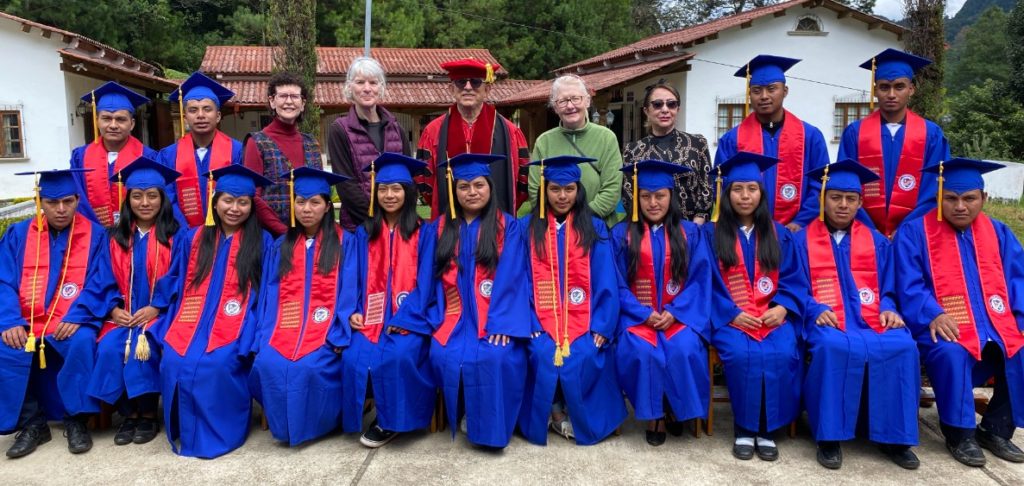 Nicolás Christian School lifts the whole community. That's what I would tell you if I could tell you just one thing about my recent trip to attend graduation ceremonies at Nicolás Christian School in Guatemala.
This fact was evident on our first day in the Ixil, a rainy Sunday morning when we drove the rutted roads to the tiny village of San Nicolás to attend graduation at the village preschool. Nicolás Christian School established the preschool a few years ago, and as you might expect, the children were predictably adorable. (See for yourself in the video.)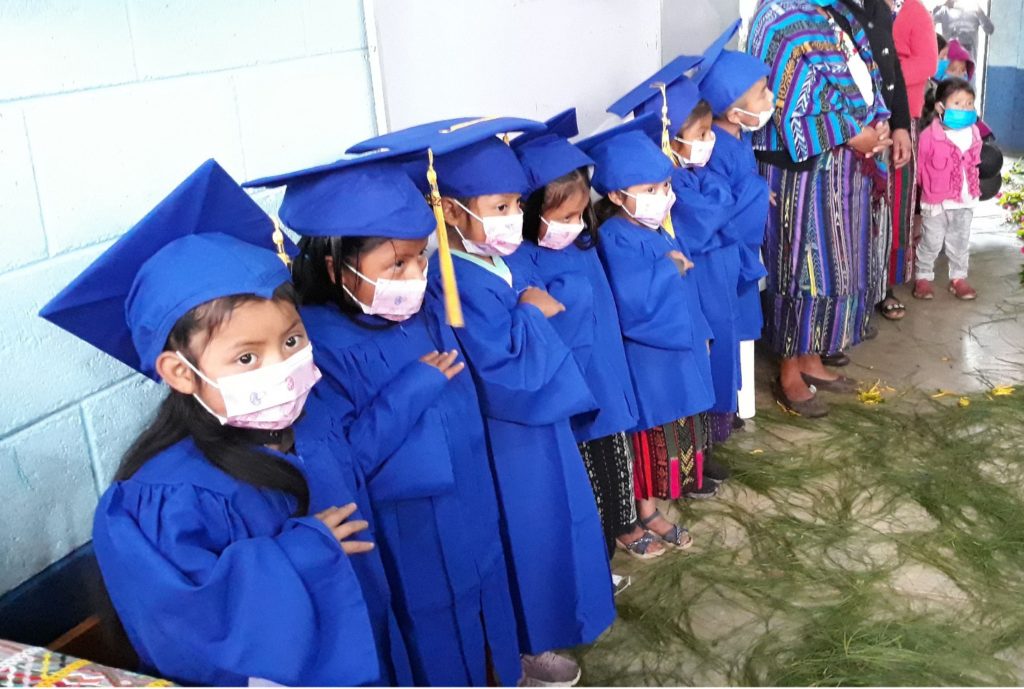 It struck me that all the thought and effort that went into the ceremony—providing tiny caps and gowns, decorating the cinderblock school room, strewing the floor with fragrant pine needles and flowers, the presence of us visitors, the speechmaking, the many verses of the Guatemalan and US national anthems we sung or tried to sing—sent the important message that education is important. Your child's education is important. Your education is important.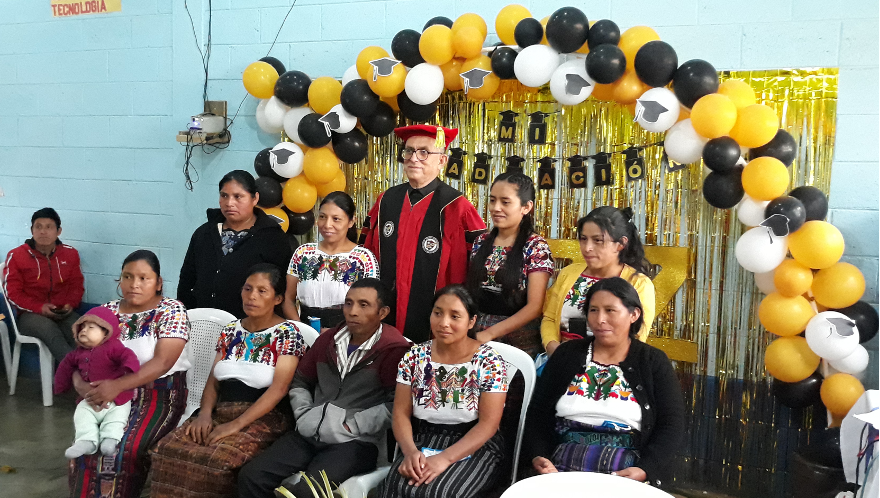 I was pleased that the ceremony also recognized several women and one man who had completed an adult literacy course also run by Nicolás Christian School. I have always been impressed by the extensive continuing education Nicolás Christian School offers free to all area primary school teachers each July. This program helps improve the quality of education for all students in the Ixil, even those who never attend Nicolás Christian School itself. In the muddy little village of San Nicolás, a cheerful, loving preschool and an adult literacy program confirmed my belief that Nicolás Christian School greatly benefits the wider community, many more people than the students in its classes.
The next day, Monday, was a rehearsal for the graduation ceremonies, two programs for graduating ninth graders and one program for the eleventh-grade graduates. That day illustrated the second thing I want to tell you: Ivan España, National Coordinator for Nicolás Fund for Education in Guatemala, treats every teacher and every student at Nicolás Christian School as the unique, special person he or she truly is in the eyes of God.
This is always evident in the loving, respectful, and encouraging way he speaks to everyone, and the way he leads by doing dishes, or changing a light bulb himself. That day it was also shown in the careful way he oversaw the rehearsal, orchestrating every detail to provide just the right note of festivity, dignity, reverence—and humor—to this occasion that would mean so much to the students and to their families. After the rehearsals, he grilled pounds and pounds of USDA choice steak (it was delicious!) for the teachers' appreciation lunch. It is clear the teachers love him in return and do their best to live up to the high expectations he models for them.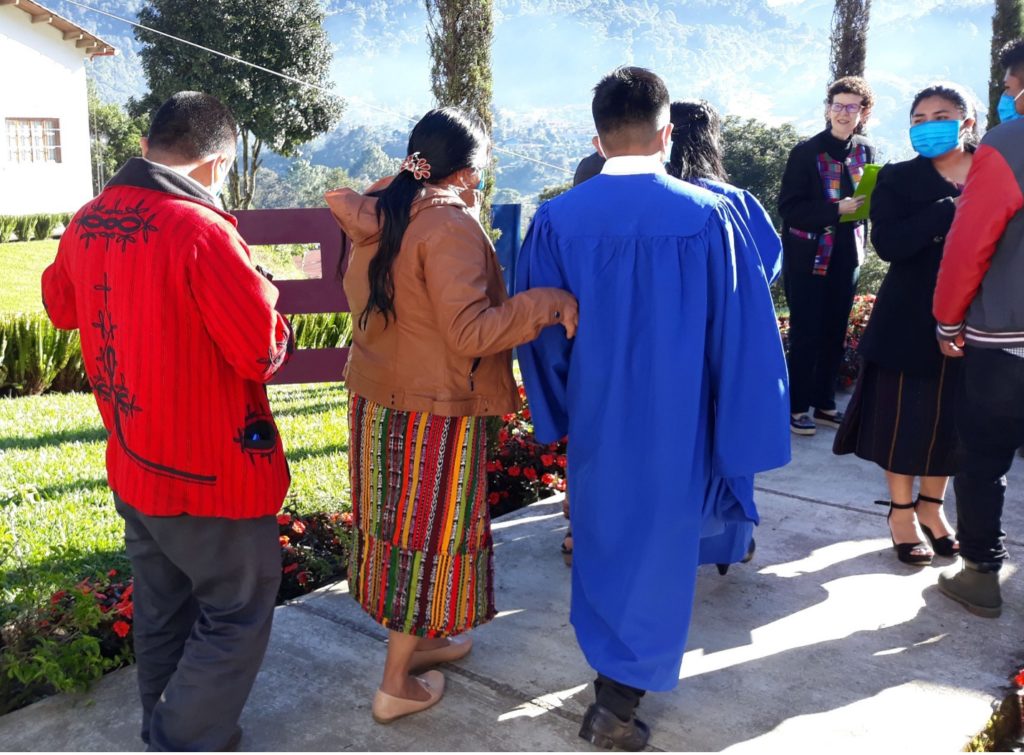 Finally, on the big day itself, I got to see the parents. The third thing I would like to tell you is pretty obvious: The graduation ceremonies were especially for the parents. I was sitting on the stage and was able to watch the mothers and fathers seated with the graduates throughout the ceremonies. These parents had come of age during the civil war and its aftermath when there were virtually no opportunities for education. The faces of these men and women told without words how hard their lives had always been. I wondered how many of their relatives had been killed in the war, and how long they had gone hungry when they were children themselves. But that day watching a son or daughter receive a diploma, their joy and pride were also plain to see. After the ceremonies, I shook as many of their hands as possible, trying hard not to tear up. (See graduation highlights in this video.)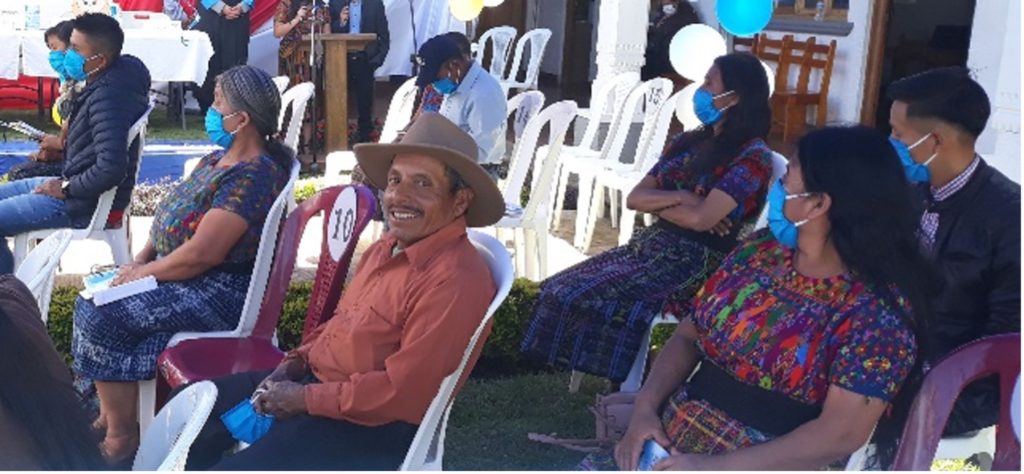 I confess I was reluctant to put this trip on my calendar. Travel in August to a family funeral had given me Covid, and I had just returned from an overseas trip in October. But I am enormously glad I went. I believe we Americans have a special responsibility to the people of Guatemala. I am grateful Nicolás Fund for Education provides such a good means of fulfilling at least a small portion of that responsibility. Reader, if you have an opportunity to go to Guatemala and visit Nicolás Christian School, go!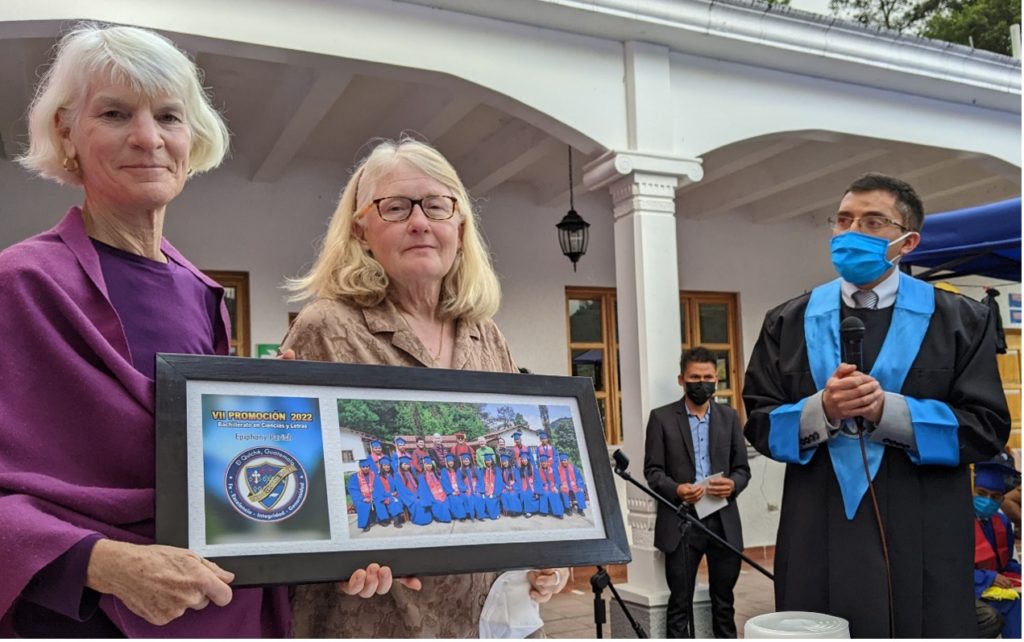 Holly Boone is a member of Epiphany Parish in Seattle. She and fellow parishioner Ann Beck attended the 2022 Nicolás Christian School graduation on behalf of their church, which was honored at this year's ceremonies. Since 2016, Nicolás Fund for Education has been a major recipient of Epiphany's outreach funding. Teams from Epiphany visited the Ixil region many times in the years 2006–2011 when their church was an Agros partner with the village of Belén.