Nicolás Fund for Education not only met but exceeded our fundraising goal for our April Fulfilling a Dream event! Thanks to our donors, we raised over $230,000, which positions us to meet about 65% of what we need to operate Nicolás Christian School and Nicolás Fund for Education programs in 2022. We will still need to raise $100,000 more by November 1 to fund all our programs in 2022. Thank you for your incredible generosity and faithfulness! You have proven your dedication to these Ixil students by providing education as a means to escape poverty.
Building Up, Reaching Out Capital Campaign
We are also publicly announcing our Capital Campaign to build a larger, permanent home for Nicolás Christian School! Please be on the lookout for our brochure arriving in your mailbox soon. We are eager to start construction on this energy-efficient structure that can accommodate twice as many students as our current leased location. Our property, located near Cotzal, will be much more convenient for families to attend school events and reduce our transportation costs.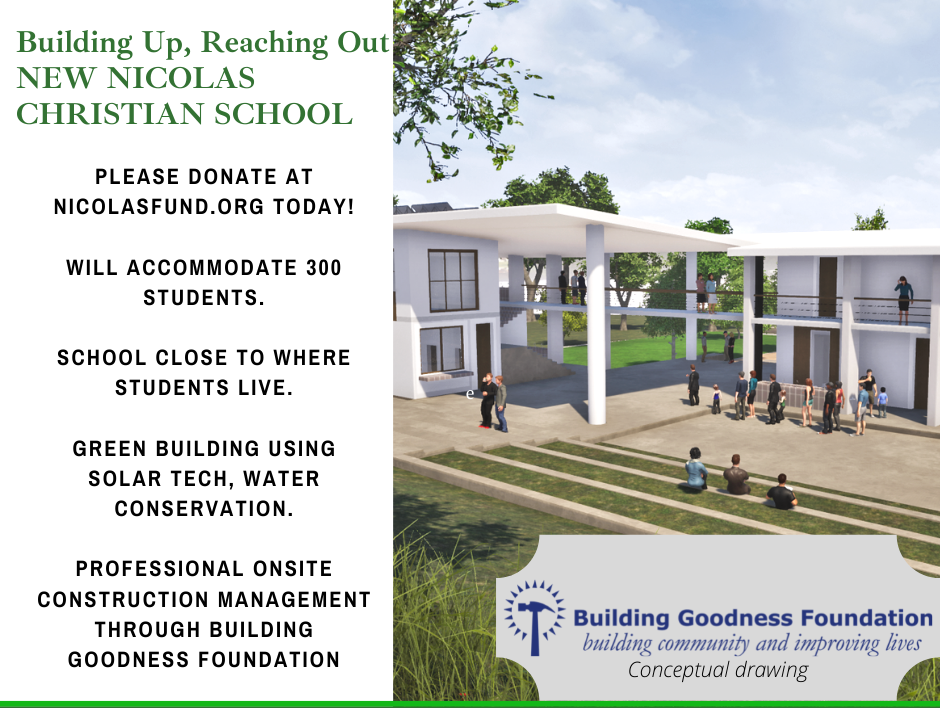 Our goal is to raise another $280,000 by October 1 so that we can break ground during the dry season next January to complete Phase 1. This building will also serve the entire community of Cotzal through adult literacy classes, online university classes on the weekend, and "weekend school" for students who must work during the week (allowing them to achieve a junior or senior high completion certificate).
This building could also host large meetings such as the Global Leadership Summit, Teacher Professional Development meetings, lectures, concerts,  and alcoholism recovery meetings. We are partnering with a US-based nonprofit, Building Goodness Foundation, that will provide onsite construction management and hiring/training of local crews to build the school. Building Goodness Foundation has already provided pro bono architectural and landscape architectural services to design the school, and our brochure and website provide some conceptual drawings. 
Double Your Impact
Please donate so that we have sufficient space to offer transformational education to up to 300 students. A generous donor has offered to match your donation up to a total of $500,000!