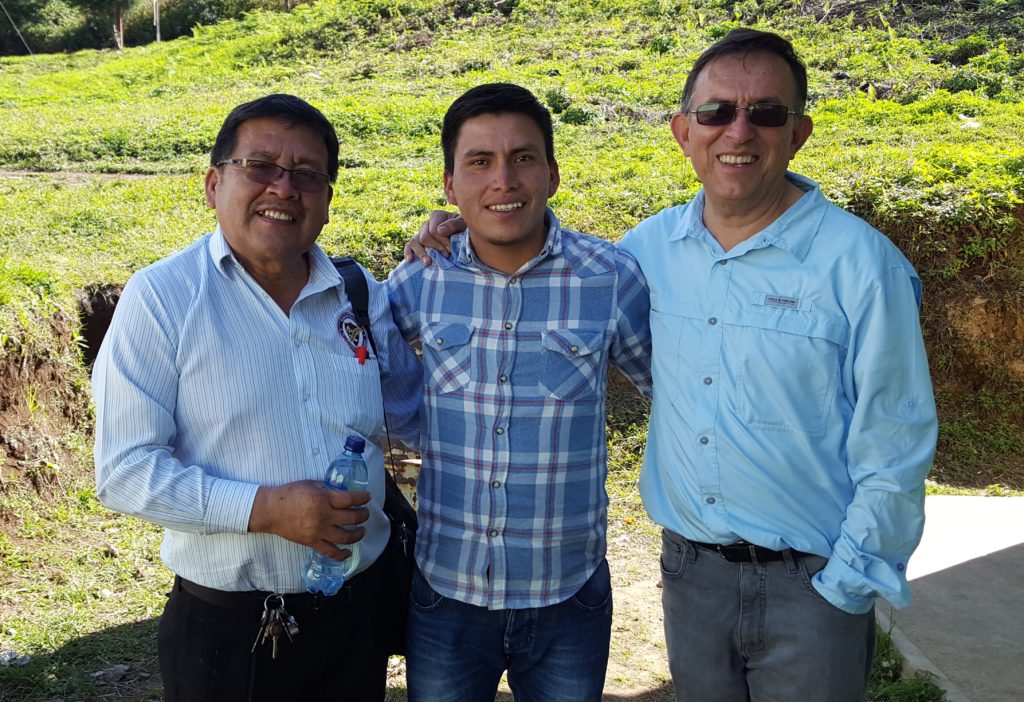 On my recent trip to the Ixil in November, I had some extra days to visit friends. I loved catching up and learning what was new in their lives. One special visit was to Ana Sajíc's home in the Los Angeles village. Ana is the widow of Nicolás Toma Cruz, the man for which the Nicolás Fund for Education was named. Only a few days earlier Ana was present at two of her granddaughters' graduation ceremonies from junior high, Cristel, and from senior high, Ana Elcy.
Ana's youngest son, Miguel Angel, graduated from high school in 2015. He received a scholarship to continue his education in nursing. Ana shared with me that Miguel Angel graduated from his nursing program two years ago and was offered a job in Guatemala City. Ana said that he turned down that job offer. He didn't want to live so far from his home in the Ixil. Soon after turning down the first job offer, he got a job in the Ixil serving four villages. He absolutely loves his work and the team that he works with.
Miguel Angel's English-speaking cousin, Estuardo Sánchez, was my translator during my visits. Estuardo helped me communicate with Miguel Angel after I returned to Seattle. I had three questions to ask Miguel Angel. Here are those questions and his responses.
What do you like best about your job?
"In my work as a professional nurse, I like to care for the people of the Ixil region. This was one of my dreams and today it is being fulfilled. I am in charge of a good (medical) team, and we are providing good professional care."
What are the challenges you face in your job?
"The challenge I have is traveling to my place of work because I ride one hour on my motorcycle. Much of the ride is on unpaved roads which is not easy, but I always entrust myself to God to accompany me."
What would you like to be able to tell your dad about your education and job?
"Well, I would like to tell him that I have achieved my dreams, which is what I loved the most since I was a child. I used to say to my father that I wanted to to be a professional nurse. I would have liked to celebrate with him, but I don't know that from heaven he feels proud of me.

My achievements I carry with me that I have not only graduated but I am working, and thanks to God he never abandoned me. I suffered a lot to achieve my dreams, but I am already seeing the fruit of my efforts.

We must never stop fighting for what we want to achieve. Day by day it is a challenge in life. Thanks to the Nicolas Foundation for the support they gave me that now I am what I am."
Miguel Angel travels from his home in Los Angeles Monday through Friday. He works in four communities beyond the La Bendición village and the town of Santa Avelina. The four villages are Pamaxan, Buenos Aires, San Marcos, and Villa Hortensia Antigua. As many Guatemalans are trying to cross the border and find work in the United States it is a blessing to hear Miguel Angel's story of his education leading him to a job in the Ixil that he loves and that he is helping the Ixil people.