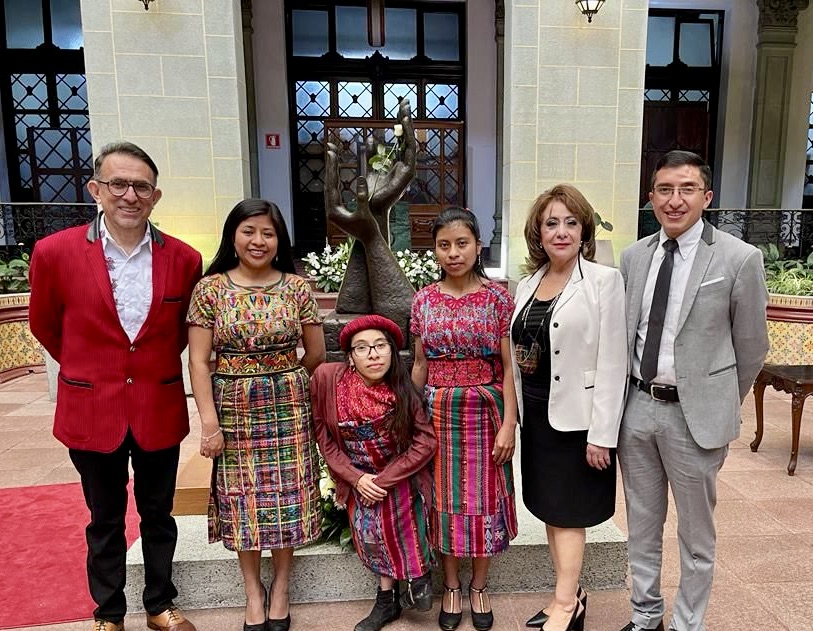 Nicolás Christian School graduate Juanita Cordova Cedillo recently received two important honors from Guatemalan President Alejandro Giammattei and his administration. Guatemala recognized the International Day of Disability on December 3. The United Nations launched this day of recognition "to reaffirm that the complete realization of the human rights of all persons with disabilities is an inalienable, integral, and indivisible part of all human rights and fundamental freedoms."
The United Nations noted that "Of the one billion population of persons with disabilities, 80% live in developing countries." The United Nations uses this day of recognition to promote technology that allows inclusion and opportunities for the disabled. The United Nations website indicated, "Even under normal circumstances, persons with disabilities are less likely to access health care, education, employment and to participate in the community. An integrated approach is required to ensure that persons with disabilities are not left behind." This year, the theme for the International Day of Disability was leadership.
President Giammattei asked Juanita Cordova Cedillo to come to Guatemala City on December 3 to attend a ceremony at the Aguinaldo Palace acknowledging the International Day of Disability.  Juanita placed a white rose on a statue during the ceremony.  Juanita has spina bifida, a congenital disability that significantly limits her mobility.
Despite her disability, Juanita graduated from high school through Nicolás Christian School's Distance Learning Program. She is a self-taught artist currently working in the Ixil region, and her inspirational story has made her a community celebrity. Nicolás Fund for Education National Director, Ivan España, stated, "Today Juanita is an example, as she encourages other young people in the Ixil region (which is ranked number one in youth suicides), gives lectures, is invited to different competitions, has her Leadership WhatsApp group, and is a faithful assistant at the Global Leadership Summit in Nebaj." Juanita often says, "With God, all things are possible."  
The Guatemalan Minister of Culture and Sports also announced that Juanita was appointed to be Guatemala's "Ambassador of Peace"! Juanita's role will be promoting leadership and inclusion for the disabled and advocating for peace. 
Nicolás Fund for Education's National Director, Ivan España, also addressed the audience and members of President Giammattei's administration in a speech. Mr. España stated, "Education with values ​​and principles has guaranteed Juanita and many other young people from the Ixil the opportunity to reach all the potential that God has placed within each one of them. Thanks to the President, the Minister of Culture and Sports, and Nicolás Fund for Education, this is possible in the Ixil Region."