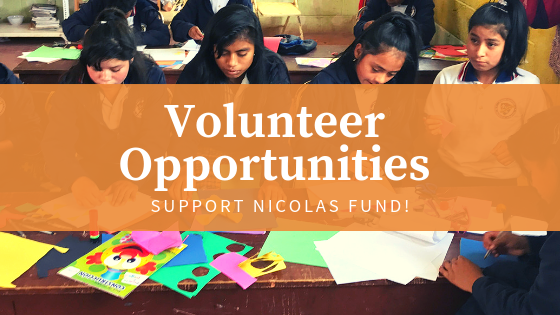 Nicolas Fund for Education is growing and we are looking for volunteers to expand our impact! Would you be interested in contributing to our students' education with your time and talents? Here are the main ways you can make a difference at NFE:
Fulfilling a Dream Volunteers
Our main fundraising event is the Fulfilling a Dream happening this year on Friday, April 26th in South Sound and Saturday, April 27th on Mercer Island. Some volunteer positions available are:
Volunteer Coordinator (Mercer Island) –  do you have great people skills and can coordinate and connect volunteers?  We need to you help keep track of the big picture of our event volunteer logistics.
Dessert Volunteer Coordinator (South Sound) (Mercer Island) – do you love all things desserts and want to organize a team of bakers to provide a variety of sweet noms for our event?
Table Host Party Coordinator (Mercer Island) – all the table hosts get together before FAD to celebrate another year of God's faithfulness and plan for the event.  We need you to help coordinate the details for that party!

Set-Up/Take-Down Volunteer (South Sound) – Arrive early to help set and decorate tables, make coffee and arrange desserts, OR stay late to remove and package decorations, take down tables and assist with light cleaning tasks.
Communications Volunteers
As we continue to grow and expand, sharing our stories on social media and our website becomes more and more critical as we reach new people. Some available volunteer positions available are:
Story Content Coordinator – If you love sharing and hearing great stories from our villages, then this is the position for you! We need someone to talk to people who have gone on trips and write about their favorite and most meaningful moments and connections with our students and their families. These written stories and associated pictures will be the basis for our newsletters and social media posts.
Social Media Volunteer – Are you a social media wizard and want to put your talent towards supporting our kids? Do you have a young friend who would love to learn how to create a social media campaign for a non-profit? Then join our social media team where we share two or three times a week on Instagram and Facebook!